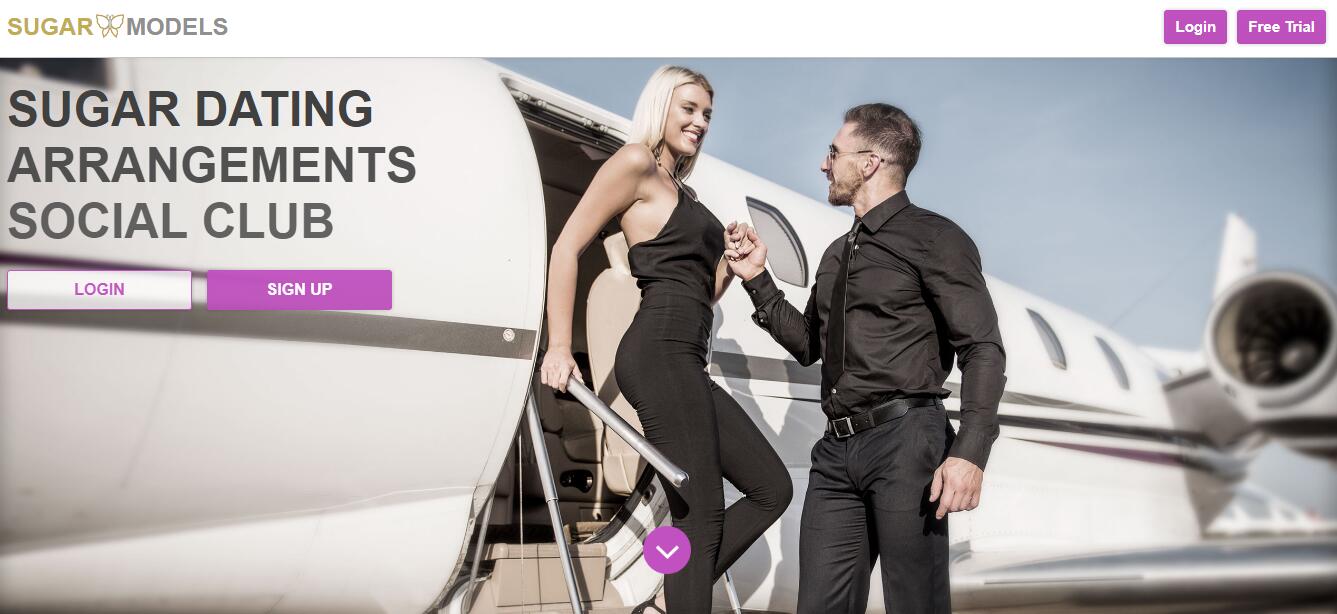 Sugar Models Website Screenshot
Sugar Models is a typical dating site created to help beautiful women and influential men connect with each other. The site offers a simple and straightforward registration process as well as promises to provide you with outstanding services. This is a site designed for beautiful and young women seeking relationship based on mutual understanding with rich and successful men. Mutual arrangements are usually for fun and recreation.
Sugar Models have also introduced their app through which you can contact and meet a sugar baby whenever you wish to. You will not have to wait for long or spend hours finding out who is interested in going out with you and who is not. Simply by swiping left or right of the photo one can send message of liking and dislikes to the other person. It is that simple and fast. Also, with more and more use of smartphones the usage of apps is enhanced nowadays. However, when you go using sugarmodels app you will find that there are more promises than actual fun and date.
The website says that well-rounded, classy, fit and beautiful young women are there seeking advancement in their career and lifestyle. There are women, not all of them are beautiful or attractive, as they say. Although it is up to you whom you choose, but finding one seems quite time taking and exhausting. Here are 7 reasons why we found that the site is not worth visiting.
1. Not many active members
The site promises of hundreds of members joining regularly, but in reality, there are very few active members and since people sign up with dating sites to meet someone, few active members make this quite boring. If service is good you can say that this site is considerably old and so we can expect the site to be active. Many men have even responded that 80% women did not respond to the messages left for them on site or app.
2. Not so good quality
Along with the slow response of the app, there are so many advertisements popping up that for few seconds you find your phone getting hanged while using the Sugar Models app. When you visit the site, you will feel that they are promoting affairs going on between sugar babies and sugar daddies. The description that it gives leaves an impression that any woman can get financial support here and any sugar daddy will find a young model or college student, which is not the case always.
3. Not so serious users
Since Sugar Models offers free membership, you will find a large number of members who are non-serious and just stay online for pastime. Many sugar babies and sugar daddies signup to find some fun filled mutual relationships and when they find there is not much possibility here, they abandon their profile, leave the site and do not come back. In such situation it becomes hard to trust anyone on that site.
4. Design of the site
For a website that is promoting sugar daddy and sugar baby relationship, the site of Sugar Models is definitely not of high quality, especially appearance wise. The site looks very typical and is completely unimpressive. This maybe a reason why more people are not sticking around the site.
5. Women overly provocative
While searching the sugar baby photos you will not be able to find a charming face. The photos are excessively revealing with high amount of sexuality they portray. They are barely covering their body and it seems women are only looking for one thing and that is money.
6. Question on trust
With a sugar daddy website believability is already low because majority join with skepticism. Additionally, Sugar Models confirms that many people join here for high income, not looking for any kind of relationship and are not the person who is in photos.
7. Authenticity is missing
Many people would join thinking that everything is verified and trustworthy here. But, in reality, members do not trust each other. The photos are downloadable and members question each other here.
With so many negative things on Sugar Models it is hard to say why one will choose this site. If you are looking for a real sugar daddy site, check the list of sugar daddy dating sites here.